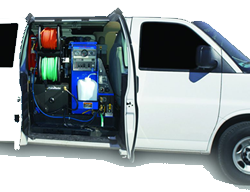 Truck-Mounted Hot Water Extraction

A truck mount carpet cleaner is a powerful carpet and upholstery cleaning system that comes mounted on the floor of a van or trailer. It uses hot water or super-heated steam for cleaning soiled and dirty carpets in commercial establishments. The system includes a self contained machine driven off its own engine and offers significantly more cleaning power than conventional carpet cleaning machines. Truck mounted carpet cleaning equipment offers professional carpet cleaning several advantages, which they cannot get with ordinary cleaning systems. The machine performs deeper and more efficient cleaning and works much faster than most carpet cleaning systems. Truck mount professional carpet cleaning equipment offers faster cleaning of extensive areas of carpeted surfaces in commercial establishments.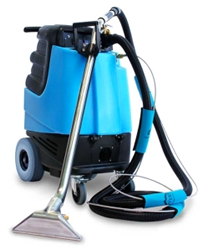 Portable Hot Water Extraction

A Portable Hot Water Extraction unit can go where the truck mounted units cannot. For instance; a multifloor apartment , hotel or office building with long distances from entry to space needing cleaning. Their 120 psi solution pump, three stage vacuum motor producing 130" of waterlift with a 1200 watt heater that produces hot water up to 190 degrees these commercial units are much more powerful than the rental type units but not as powerful as the Truck Mounted units.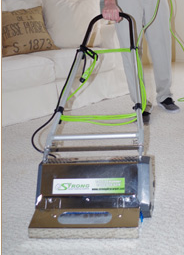 Dry Cleaning Machine

Dry Carpet Cleaning Machine is used where a wet or damp carpet is unacceptable, involves the use of specialized machines to clean carpets with recently developed chemical technologies that permit no-moisture or "very low moisture" (VLM) cleaning, resulting in carpet beautification, and removal of stains, dirt, grit, sand, and allergens. Dry carpet cleaning systems rely on dry compounds complemented by application of cleaning solutions Dry cleaning sysytem are with their very rapid drying time, is a significant factor for 24-hour commercial installations.